"Providing Compassionate, Gentle, Podiatric Care"
We are pleased to welcome you to Comprehensive Foot & Ankle Care, the Podiatrist office of Anne McNamara, DPM Anne McNamara, DPM and Melissa Winter, DPM. Our staff is committed to providing the finest in Podiatric Care in a warm and friendly environment, and our goal is for you to feel as relaxed and comfortable as possible during your visit.
Our Podaitry Practice is dedicated to providing the highest level of foot and ankle care to all ages of patients. We believe that early intervention, prompt diagnosis, careful prevention and effective treatement are the essential tools used in the care and treatment of your feet. We utilize state-of-the-art digital x-ray and ultrasound systems to aid in our diagnoses, and we provide our patients with a full range of Podiatric medical treatment options including conservative and non-conservative approaches. We are affiliated with Lee Memorial Health Systems and are located near Gulf Coast Medical Center in Fort Myers, Florida.
We specialize in helping people, and we will utilize our experitse, technology, and compassionate nature to understand your specific foot care needs and to recommend the most appropriate course of treatment. We work closely with Primary Care Physicians and other Specialists to ensure the most effective, comprehensive treatment plan is enacted.
You don't need to live with painful foot or ankle problems that slow your mobility or prevent you from living a full, active life. We are here to help you achieve the outcomes that you desire in order to live the lifestyle that you deserve.
A bunion (also referred to as hallux valgus or hallux abducto valgus) is often described as a bump on the side of the big toe. But a bunion is more than that. The visible bump actually reflects changes in the bony framework of the front part of the foot.
Heel pain is most often caused by plantar fasciitis, a condition that is sometimes also called heel spur syndrome when a spur is present. Heel pain may also be due to other causes, such as a stress fracture, tendonitis, arthritis, nerve irritation, or, rarely, a cyst.
Ingrown toenails are due to the penetration of the edges of the nail plate into the soft tissue of the toe. It begins with a painful irritation that often becomes infected.
Corns and calluses are areas of thick skin that result form excessive pressure or friction over a boney prominence. When these areas develop on the bottom of the foot they are called calluses.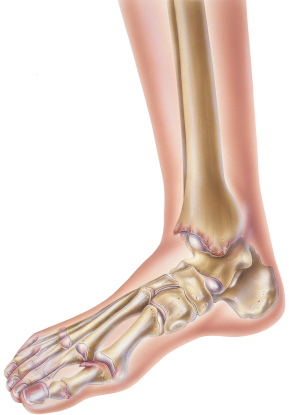 Hammertoe is a contracture (bending) of one or both joints of the second, third, fourth, or fifth (little) toes. This abnormal bending can put pressure on the toe when wearing shoes, causing problems to develop.
A neuroma is a thickening of nerve tissue that may develop in various parts of the body. The most common neuroma in the foot is a Morton's neuroma, which occurs between the third and fourth toes. It is sometimes referred to as an intermetatarsal neuroma.
A prescription foot orthosis is an in-shoe brace which is designed to correct for abnormal foot and lower extremity function (the lower extremity includes the foot, ankle, leg, knee, thigh and hip).
The common wart is known as verruca vulgaris. They are caused by a viral infection of the skin. This occurs as a result of direct contact with the virus. They do not spread through the blood stream. They occur more commonly in children than adults.